Forest School
The modern concept of Forest Schools originated in Sweden (known there as 'Rain or Shine') and then spread out to the rest of Scandinavia and other parts of Northern Europe. It was brought back to the UK by Bridgwater College, in the 1990's and entitled Forest Schools by them.
Taking children outside encourages them to learn social, physical and educational skills whilst at the same time appreciating and understanding the environment. Since its' introduction to the UK, it has mainly spread through the EYFS and up into the primary sectors. Older age ranges do experience Forest Schools but KS3 and above don't do it as much at the moment. As a provider, O.W.L. has worked with the staff and children from hundreds of different establishments, at least five different counties/Local Education Authorities and ages ranging from birth to retirement (these figures do not include additional days for the general public). Some of the most advanced groups that I have had started in nursery and then I've had them every year up to year 6 and beyond.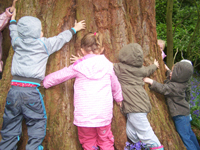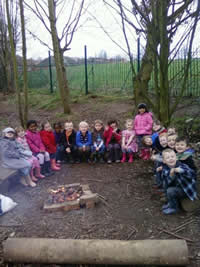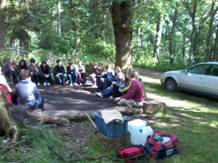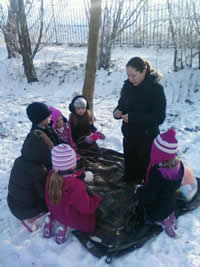 How will this help you and your children?
O.W.L. has the skill set and proven track record of experiences to lead or assist you in delivering these exciting opportunities. Knowledge of what is realistic, what will work, what won't, what is safe and what is not, combined with core qualifications in first aid, risk assessment, food hygiene, manual handling, H & S, Safeguarding and PREVENT all blend together to create an optimal immersion for everyone.
Every session is done with the participants in mind and O.W.L. sets out to personally challenge itself to make them as effective as they can be. Also, if your setting has become an academy O.W.L. can match the ethos and standards for these locations with Forest Schools. Whereas a lot of providers follow set routines time and time again, O.W.L. will develop unique sessions for each group of participants at their specific location.
For those of you who are concerned about the children's learning because they are not in the classroom- O.W.L. has found it is possible to strike a balance between the academic and the outside. The tasks set will help to develop areas like team work, tools skills, natural scientific knowledge, reading, writing, mathematical skills along with reasoning and problem solving.
Research from Germany and Switzerland backs up anecdotal claims that Wald (forest) kindergarten methods are good for children. A PhD thesis for the University of Heidelberg compared the performance of children from forest kindergartens and standard kindergartens in their first year together at school- which all German children begin aged six. The results of the study, which quizzed teachers across the country about children from almost 50 forest kindergartens, was almost exclusively positive.
In six defined categories, from 'cognitive tasks' and 'social behaviour', to 'creativity' and 'physical ability', graduates of Waldkindergarten clearly outperformed their peers. '...It is remarkable...,' '...the children from
Waldkindergarten possess a clear advantage. Clearly, children who attended Waldkindergarten have a lead over those from "inside". For the best education of children at elementary age, Waldkindergärten are to be positively recommended.'
The study also revealed that children were more robust after early years outside. 'A surprising outcome was that girls especially profited from having attended a Waldkindergarten, the teachers gave them higher credit for being tougher and physically more self-confident than other girls.'
O.W.L. specialises in coming to you, taking part in OfSTED inspections, working with parent groups...
As a setting all you need to do is provide the group and explain what outcome you would like from the sessions.
The table below has been compiled from the feedback given by parents over the course of a year.
300 surveys were completed.
Question

Yes/No percentage

Comments

Have you been before?

Yes 96%

No 4%

Would you change anything?

Yes 1%

No 99%

Do weekends, longer sessions, warmer weather!!!

How did you feel beforehand?

√ 99%

X 1%

Wish we had warmer weather

Have your opinions changed now?

Yes 0%

No 100%

Fab, loved it! Great for the children
Here are some quotes from parents who took part in sessions with their children-
"I really enjoyed the workshop, had loads of fun and definitely would want to do it again! The forest schools turned out to be loads of fun too!"
"I thought that this morning went very well, Grandson, Na-Na & Granddad really enjoyed the outdoor activities, and also the work that went on inside too"
"It was wonderful experiencing Forest school activities"
"It was great to take a day off work and spend a couple of hours with our son, the outdoor activity was fun, watching all of the children enjoying themselves"
"Made to feel very welcome, I would definitely come to another workshop. Also Forest schools was brilliant-so much fun"
"It was good going out to see what they do at Forest schools, also lots of activities to play inside"
"The Forest school is a very educational experience, I've learned things today I didn't know"
"Forest schools was great it gives my child a chance to go into that kind of environment that I would not always take her into"
"Fantastic day loved ALL the activities especially the
"camping" (forest schools) brilliant school & staff. Hope they all stay for many years!!!"
"Loved Forest schools, fantastic day"
"When we got outside it was actually really, really good fun. I enjoyed being in a different environment with not only my child, but other parents and children"
For more information and prices about Forest Schools-coming into your establishment or training, please see the training section of the website and/or contact me.